" I feel blessed to be working in an atmosphere where most people come to vacation. I share the excitement of my clients' purchases and help them create memories for life. "
Our
Brokers
An experienced broker will have valuable knowledge about selling or assisting someone selling or buying a boat.

Tom Miller
CONLEY BOTTOM
Tom is at the Houseboats Buy Terry Home Office, located at Conley Bottom Resort on Lake Cumberland, KY. He is serving Conley Bottom Resort, as well as boats nationwide.
HouseboatsBuyTerry has listed and sold many boats nationwide, as well as internationally. Tom has owned and operated HouseboatsBuyTerry since he and his wife Terry started their company in 2004. He enjoys listening to your needs, and pointing you towards the perfect boat that fits your family. And after the sale you can always call from now on, and get help with any questions you may have.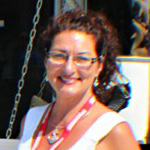 Lisa Blakeman
Jamestown Marina
Lisa Blakeman is serving our customers on the northwest part of Lake Cumberland, KY. Her office is located in front of Jamestown Marina. She also serves State Dock, Wolf Creek Marina & Alligator 2, in the  Jamestown/Russell Springs area of the lake. As a lifelong resident of the Russell Springs area, she knows who to call when she needs to get something done. Lisa says, "I just want to treat customers like I would want to be treated, and do what I say". Stop in and tell Lisa what your boating goals are this year, and let her use her experience and passion to make your dreams come true. Lisa will set your course for the perfect boat, and seasons filled with great memories.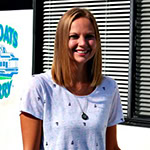 Ceysha Hall
Beaver Creek Marina, Burnside Marina, Grider Hill Marina, Rowena Marina, & Laurel Lake
Ceysha Hall is serving our customers at Beaver Creek Marina, Burnside Marina, State Dock, Grider Hill Marina, & Rowena Marina on Lake Cumberland, KY; as well as on Laurel Lake. "I grew up in Monticello, KY, the "Houseboat Capital of the World". I have worked as an office assistant at Houseboats Buy Terry's main office at Conley Bottom Resort since 2011. Or as Terry likes to say, I am now a graduate of "Houseboat College". I have learned directly from Terry, what it takes to listen to a customer's needs and help them buy or sell their boat. On my days off, I still find myself drawn to the lake, where I like to take my daughters boating, fishing, and swimming. I look forward to helping find your perfect boat, or sell your boat and move on to your next adventure."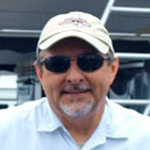 Glenn Combs
Cave Run Lake
Glenn Combs is operating out of his home office in Lexington, KY. It is only a short drive to any of the beautiful lakes in the area.
"I have been a lifelong "Houseboater" growing up with my family on Lake Cumberland soon after it was impounded. That's me driving my dad's boat back in the early 50's. My father owned some of the very first houseboats on Lake Cumberland including the wooden shanty boat pictured. I have enjoyed boating on many Kentucky lakes, including Cave Run as a houseboater for over 15 years. I have an undergraduate degree in Business Administration from the University of KY and a Master's Degree in Business Administration from St. Xavier University. I have worked throughout Eastern Kentucky as General Manager and President for a chain of department stores. Later I went into business with a partner to process payrolls and employee benefits for companies all over the United States. We sold that business in 2015 and I joined Houseboats Buy Terry soon after that. I am currently an authorized instructor with the US Power Squadrons of America (a boating group), a member of the US Coast Guard Auxillary, and a private pilot with Commercial, Twin and Instrument ratings. Becoming part of the "BIGGEST" and "BEST" houseboat and cruiser brokerage firm in the US is a lifelong dream job come true for me. Let me make your family dreams come true, with outstanding service before, during, and after the sale." Glenn

Todd Koontz
Dale Hollow Lake
"After a few years in the US Navy, I came home to find our quiet little town of Monticello was becoming the Houseboat Capital of the World. I quickly found work at Stardust Cruisers striping houseboats.
After several years at different manufacturers, I had the opportunity to paint a few boats at different marinas. That's when Koontz Xtreme Striping was born. After 30 plus years, hundreds of boats, & satisfied customers have made us the premier & preferred boat stripers in the Lake Cumberland & Dale Hollow Lake area.
Now I look to start a new adventure, working with Houseboats Buy Terry as a boat broker; which I am super excited about. Whether brokering boats for HBT or striping a few boats with my son; Robert Koontz. You'll see me out on the water doing what I truly love, working with/for my customers on the lake! " Todd Koontz
Tyler Lee
Nationwide
"I was born in Somerset, KY. in  the "Houseboat Capital of the World". Sunsets & smiles have always driven me to love the lake.
I have been helping my Dad, Ricky Lee, (owner of California Houseboat Movers); haul boats for the past 8 years. Recently, I started driving the truck & hauling the boats myself. I travel all over the US moving houseboats and helping boaters. As a houseboat broker, it will be another way I can use my experience and passion to help boaters locate the boat of their dreams.
Whether I'm moving your boat, selling your boat, or helping you find the perfect boat for you; I'll work hard for you. Tell me your wants & goals, and we can achieve them together!" Tyler Lee
Dale Shepherd
Serving: Jackson, Mississippi
I have been involved in boating since the age of 4, when I began white perch fishing on the reservoir with my father. Through the years I spent lots of time on the water enjoying water skiing and pwc's. I started my houseboating experience in 1996 when I restored a 1969 Drifter. In 2002 I purchased a custom built Sunstar houseboat. Early in 2011, I completed the required courses and testing to be issued a US Coast Guard Captains license. I have more than 24 years military service and currently serve as an aircraft maintenance officer with the Mississippi Air National Guard unit in Jackson. I live just a few miles away from the reservoir with my wife Amy Shepherd, a local physician, and son William. I serve on the Reservoir Foundation Board on the community events committee. I am the co-owner and managing partner of Main Harbor Store on the Ross Barnett Reservoir in Jackson, Mississippi. Main Harbor Store consists of the fuel dock for the Main Harbor, rental boat business, and a ship store. I own and operate a Sea Tow Franchise on the lake to provide 24 hour assistance to boaters. Main Harbor Store is located inside Harbor Station also co-owned by me. The building is home to other businesses such as Pelican Cove Grill and commercial office spaces. As you can see, my life revolves around the water, and I have the passion, contacts, and knowledge, to help you pursue your boating dreams as well. Give me a call today, and let me help you get started.
We're not sellers. We're boat lovers.
Save time, effort, and money!
"More Than Anything Else, We Want The Boat That's Best For You."
We Care
Let our passion for boating work for you.
Experience Counts
We offer knowledgeable answers to all of your boating questions.
Brokers Serving
Kentucky, Indiana, Tennessee, and Mississippi. Selling nationwide as well as worldwide.
Savings
Our experience will save you time and money.