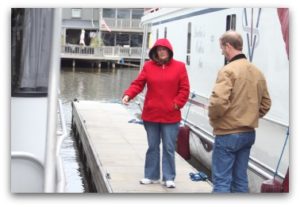 Cold weather seems to have arrived early this fall. Is your boat safe from the freezing temperatures? When we first see temperatures dipping into the twenties, their is no need to panic just yet. The first area of concern is the outside water valves and sinks, such as those on a roof top bar, or lake wash down. These should be drained down to get the water out of the lines, simply by opening up the spickets, with the water pump off, and the dock water disconnected. You should not have to worry about freezing issues outside, until even colder temperatures arrive. By then, you should have marine antifreeze in all your outside water lines. Freezing temperatures at night only, are not necessarily a reason to be concerned. One of the wisest boat experts we have ever known, Eugene New, a long time dock manager in Somerset,KY explained 25 years ago, When temperatures dip below freezing for three consecutive days and nights, your boat engines should be winterized. Now this isn't to say, when temps. drop for 2 out of 3 days, I don't get nervous. It's always wise to err on the side of caution in my opinion. Water temperatures are still relatively warm in November and early December, and for this reason your engine compartment is warmer than you might think.
Once your engines are winterized, you have protected your biggest investment. Winterizing your interior water system depends on your particular boat, and how you might use it in the off season.
We always turn our heat to 55, fill our water tanks, and that way, we can still use our houseboat later in the fall, and earlier in the spring. We've even spent New Years on our boat, and that was a great memory.
Be sure to top off your inverter batteries, since they will be charging all winter long. It' a good idea to leave your under sink cabinet doors open, to allow heat in to those pipes, as well as the doors to your washer/dryer.
Be sure to check around all windows, especially in the cuddy's, to see if there are any signs of moisture stains. And each time you return to check on your boat, do the same. We have seen these areas surprise people in the spring. The cuddy's are not usually an area that is seen that often by adults, so pay particular attention there. You can turn your water pump off, and make sure to lift the ice maker arm as well.
As for the exterior, your dock water hose should be removed and stored away. Fan blades are best removed, to protect from the winter winds. Roof furniture and grill covers should be tied down. The last thing to check is your dock lines. Any old, frayed ropes, are inviting trouble. Adjust your bumpers and lines holding them, to insure they are protecting your hull from the dock. These are just a few tips to make you feel comfortable your boat will be in good shape when you return. The process of winterizing a boat begins right after Labor Day with planning and scheduling, and culminates with the first hard freeze of the season. If you plan far in advance, it isn't a daunting task to complete.