"More than anything else, we want the boat that's best for you!" It's not just a quote Terry said, it's a philosophy that we have adhered to since we began selling boats. What does it really mean? It means that whether you are selling a boat with us, or buying a boat from us, in the end, we want what's best for you.
Recently, w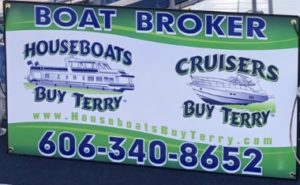 e have learned not all brokers operate with this mindset. Some of our competitors, who will remain unnamed, put profit above the customer. When you sign a contract with a broker to sell your boat, be sure to read what the exit clause is, if they fail to sell your boat in a reasonable amount of time. You may find that you could be tied into a contract with them for as long as an entire busy summer selling season. This could result in you having to wait another year to have the prime boat selling season working in your favor.
We realize sometimes customers put their boats up for sale, not just because they have "two foot itis", and want a bigger or better boat. Sometimes the children are selling their parents boat, because Alzheimers has effected their family. Sometimes both parents are now deceased. Sometimes a serious illness has caused the boat to be put on the market. And over the past 10 years, when the economy was struggling, we have seen customers forced to sell their boat because of lost jobs, or income. These are all instances that cause us at Houseboats Buy Terry to take extra care, and extra compassion, to help the customer through this difficult time, and come out with the best result possible. We have boats for sale with some of the examples I have noted, at this very moment.
One of our new listings, has learned they are tied into one of these contracts that they cannot get out of, even though the brokerage had not had any success, or kept in contact with them throughout the time their boat was listed. This particular customer recently had a family tragedy related to tornadoes that have effected parts of the country. This customer was threatened with a lawsuit, by a brokerage that lacked compassion, and did not adhere to the "what's best for the customer" philosophy. Houseboats Buy Terry has also experienced recent hardships with the loss of our office and pontoon boat we used to show customers boats. Not to mention the marina that we so love from a tragic fire. We were also threatened with a lawsuit, when we tried to help a customer, and were unaware of a contract they had signed, and how it was worded.
These are issues we can handle. However, our hope is that we can prevent customers from entering into these type contracts, without their full knowledge of what they are signing. Just be careful when you list your boat. Do your homework, and get references. Ask them if they have ever brought or threatened a customer with a lawsuit before. If they are the type business that would rather "lawyer up", than help you, please beware. At Houseboats Buy Terry, we like making a profit as well as any company. However, we try to never let money rule how we treat customers. The customer comes first, period.
"I know of nothing more despicable and pathetic
than a man who devotes all the hours of the waking day
to the making of money for money's sake."
John D. Rockefeller