Springtime is the most exciting time of year for a boater. You've dreamed of your boat on the coldest of winter days, and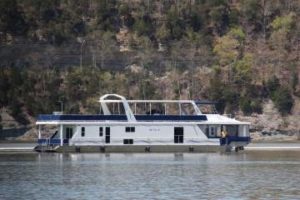 now you can finally get back in the boating groove. Be sure to give your boat a close inspection from top to bottom, including down in the hull, and behind all the windows hidden by curtains and blinds. Anywhere moisture can seep in, you should check, so a small problem, doesn't soon grow into an expensive problem. Be sure to have a notepad to make a list of things you notice that need attention. Then you can prioritize things according to importance. With each item you check off, you are one step closer to your first cruise, One of the first things you will want to do is start your engines. If you had a mechanic winterize your engines, be sure they have all the hoses properly connected first before turning the key. Some mechanics come back in the spring to de-winterize the engines before they can be run. It's best to let the engines come up to temperature and run for at least 20-30 minutes.. Be sure to check the oil pressure as soon as they fire up. When starting the generator, always check for water flow from the exhaust, usually on the side of the hull or sometimes under the swim platform on older boats.
One of the most shocking things you will notice, is your boat is no longer sparkling clean on the outside like you left it in the fall. Just don't get overwhelmed with trying to bring it back to perfection in one hard working weekend. Pick your battles wisely, and whittle the cleaning chores down over 2 or 3 weeks, so you take time to enjoy each visit to your boat.