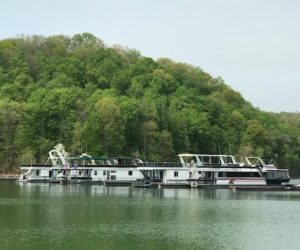 Things to check on your boat this spring.
-Batteries-First check the exterior of the battery, looking for leaks or swelling. In either case, they should be disconnected immediately and replaced. Look for any corrosion on the terminals, and clean where needed. Last, top off water levels.
-Engines-Check all fluid levels, including lower unit reservoir. Lower unit oil should be up to fill line, and make sure you have no leaks. Always keep extra lower unit oil on board, and re-check after each cruise. It' a good idea to have engine hatches open when first starting engine. After checking oil pressure upon starting, Then observe engine compartment, and check for leaks, vibrations, etc. Put engines in forward and reverse, to make sure everything appears normal.
-Generator-Turn water intake valve on before starting. Check oil level. Immediately after start up, check for a solid stream of water exiting hull from water pump. Replace water pump impeller if needed. Always keep an extra impeller on board. You won't be sorry. Once generator is running, check thrusters in all directions.
-Check shore power cord connections, as well as length of cord, looking for any signs of wear. Insure electric cords do not hang in the water, regardless of what position the boat moves to and from the dock. Check integrity of all dock lines, and replace if they show signs of being brittle or fraying. Don't be the dock neighbor who only replaces dock lines when your boat breaks loose during a storm, and damages a row of neighbors boats. It happens.
-You may be anxious to remove the winter dirt, just keep in mind, the trees will bring their own layer of pollen, to make all your efforts need repeated in a few weeks. Patience is a virtue in the spring. Do the things that won't soon need repeated first.
-Check all exterior canvas to make sure it is all secure. Canvas enclosures and covers may need a snap or two replaced. You can call your local canvas repairman for that, or purchase your own snap installation kit. Handy if you are a commtted boater. Clean Isinglass with soap and a soft cotton or microfiber cloth.
-You can add plenty to this list, but this will help make your first cruise a smooth one.