Why should I choose a broker to help sell my boat?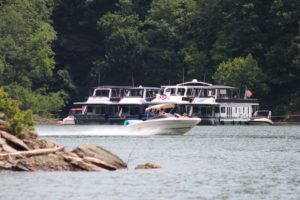 The decision to choose a boat broker over selling it yourself is a complex one. No one wants to pay money to sell a boat they have enjoyed when the possibility exists to sell it yourself, and not have any other costs. However, when the goal is to move the boat to a new owner, without many of the hassles associated with selling a boat, it is better to rely on someone who does this every day and knows the "ins and outs" of making a deal fly. An experienced boat broker is usually "experienced" because they have been doing this for quite some time. They know what can kill a deal, and what steps are most important to make the closing a smooth and happy experience for the buyer and the seller. The goal is for both parties to walk away happy. After all isn't that why we boat in the first place?
Below are some key points to analyze before you try it on your own.
An experienced broker will have valuable knowledge about certain manufacturer's, and the particular problems the aging fleet is having. The broker will ensure you inspect, and have your marine surveyor check all critical areas, so you have a good experience, and when you decide to sell your boat, it is still in top shape, for the next buyer.
Many times an experienced broker has sold certain boats several times. They have a library of knowledge about many boats and can steer you towards the best purchase decision possible.
An experienced broker will know what a marine surveyor looks for, and make sure the seller has addressed all issues before a marine surveyor does their inspection. This helps make the sale process smooth and successful.
As a boat broker, I want to sell you a boat and have you tell 10 people about the great service, and what a nice boat you purchased from Houseboats Buy Terry not give you bad advice and have you tell 20 people how disappointed you were with me.
Ask your broker how long they have worked for the brokerage they are representing. If it is only a season or two, then ask how long the broker they replaced had worked there. These are telltale signs of who not to list with.
Ask your broker how many hits their website gets per month? If their website is strong, they will know the answer and be proud to tell you.
Managing broker has 25 years experience selling and living on boats like yours. In addition, all our brokers came on board our team because of their love, passion, and history with boats.
We operate our business full time all year long. We never consider any season the "off-season".
If your boat has been for sale for quite some time, with little or no interest, there is a reason. We have the experience to help you "zero in" on what is preventing your boat from selling and put it back on the fast track to sell quickly.
In addition to listing your boat on this website, we also advertise on many other commercial boating sites, and print media nationwide. As a result, we receive phone calls from customers weekly, from every corner of the U.S. and beyond.
We sell boats worldwide and have the experience to help with safe and secure international sales with delivery to your home port.
By marketing to areas where houseboats are in high demand, you may be able to sell your boat for a price much higher than you thought possible.
We can help you determine the right price to list your boat at. Sometimes customers price their boats with little knowledge of what the market is bringing. We have an extensive database of "recently sold boats" to help you in pricing your boat at a fair and reasonable market value.
We are at the lake when you cannot be. We will take notice when PWC, grill, and patio covers blow off by the wind, ropes come untied, cleats holding your boat break off from the dock, water pools on your roof, bilge, or even ceilings become water stained, and alert you to them, before they damage your investment and possibly cost you a sale.
Our website is maintained daily from our floating houseboat office by our knowledgeable staff. As a result, our site is always current so potential customers are not distracted by old or outdated listings.
We assist you with proven marketing ideas for your boat to increase your opportunity for a rapid sale. The "Houseboats Buy Terry" Floating Office can be seen beneath the Light House Cafe restaurant at Conley Bottom Resort on Lake Cumberland in KY.
We refer qualified potential buyers to you so that you are not wasting your valuable time.
We have a VERY reasonable brokerage fee, and many times you are able to sell for more than you could have on your own. This is because of the wide path of exposure you will receive from our advertising.
To help complete the sale, we offer a large network of proven people, eager to assist you at every turn in the buying and selling process.