Terry Miller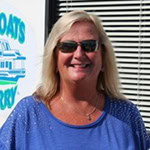 Terry is at the Houseboats Buy Terry Home Office, located at Conley Bottom Resort on Lake Cumberland, KY. She is serving Conley Bottom Resort, as well as boats nationwide.
Terry has listed and sold many boats nationwide, as well as internationally. She has often been referred to as America's Houseboat Queen®. She developed her reputation mostly by word of mouth, and past customers repeat business. Customers appreciate the extra time she spends educating first time buyers, and can sense her enthusiasm, and direct approach. She would rather steer you to a boat she does not have listed, than see you get a boat that you are unhappy with. She knows this may knock her out of a sale today, but believes in the old adage, "What goes around, comes around, and a customer's positive comments will help her later on down the road. Terry says, "I feel blessed to be working in an atmosphere where most people come to vacation". She doesn't take this for granted, and looks forward to helping see your dreams come true!
Terry Miller 606-271-1534 houseboatsbuyterry@yahoo.com
No products were found matching your selection.