Jim Behrman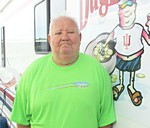 "I was born and raised in Central Indiana and retired from Cummins Engine Company where I worked for 35 years, Prior to retirement my wife, my parents, and I got into houseboating by purchasing a 1965 Somerset 50' houseboat.
The many hours working on and enjoying this houseboat on Patoka Lake in Southern Indiana hooked us on houseboating. Linda and I have enjoyed our own houseboat on Patoka Lake since 1998. From 2001 through 2008, I worked at Hoosier Hills Marina on Patoka Lake where we operated a fleet of 6 rental houseboats. I so enjoy talking to people about boats, boating, and welcoming new people to the lake and watching them smile in their new boat." Jim
Call Jim for any of your boating needs on Patoka Lake! (812)343-8999
jimatdd@gmail.com
No products were found matching your selection.