Glenn Combs
Cave Run Lake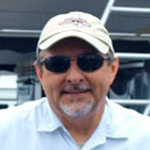 Glenn Combs is operating out of his home office in Lexington, KY. It is only a short drive to any of the beautiful lakes in the area.
"I have been a lifelong "Houseboater" growing up with my family on Lake Cumberland soon after it was impounded. That's me driving my dad's boat back in the early 50's. My father owned some of the very first houseboats on Lake Cumberland including the wooden shanty boat pictured. I have enjoyed boating on many Kentucky lakes, including Cave Run as a houseboater for over 15 years. I have an undergraduate degree in Business Administration from the University of KY and a Master's Degree in Business Administration from St. Xavier University. I have worked throughout Eastern Kentucky as General Manager and President for a chain of department stores. Later I went into business with a partner to process payrolls and employee benefits for companies all over the United States. We sold that business in 2015 and I joined Houseboats Buy Terry soon after that. I am currently an authorized instructor with the US Power Squadrons of America (a boating group), a member of the US Coast Guard Auxillary, and a private pilot with Commercial, Twin and Instrument ratings. Becoming part of the "BIGGEST" and "BEST" houseboat and cruiser brokerage firm in the US is a lifelong dream job come true for me. Let me make your family dreams come true, with outstanding service before, during, and after the sale." Glenn
Glenn Combs 859-227-7318 g.combsboatbroker@yahoo.com

No products were found matching your selection.